I was born in Canada in the early 1950's and had the good fortune to travel and find myself living in West Australia in 1974. I have a successful career as a Horticultural Scientist specializing in the rich diversity of the local flora. I have a particular interest in plant propagation and it's application to commercial horticulture and the nursery industry. My current goal is to 'retire' into a lifestyle teaching Circlework.Training.
My Vision is 'Circlework.Training a balanced body and mind'.
My mission is to teach High Performance Aging, a form of resilience training for the nervous system and somatic body. It's a slow practice that focuses on the reference point of balance and includes conventional strength and conditioning mixed with yoga and qi gong. The practice of High Performance Aging refines proprioception and interoception, we practice by paying attention to how we move and breath.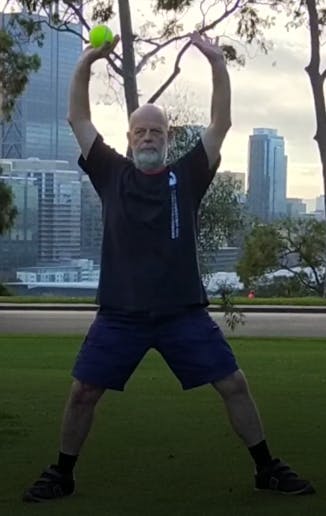 I learned my first meditation, yoga asana and pranayama techniques in the early 1970's as taught by Maharishi Mahesh Yogi in the Transcendental Mediation community. I have studied vajrayana buddhism with Chim Shore and I have practiced a large number of both external and internal martial arts. I met Master Sam Chin in 2000 and discovered a love and deep interest in Zhong Xin Dao I Liq Chuan (ZXD/ILC).
My current teacher, Shane O'Donnell, with whom I study marital arts, lives in Queensland. The simplicity, practicality and health benefits of this art are very appealing to me and have formed the basis of my practice since then.
I have been teaching bodywork for the last 11 years and have instructor qualifications in Subtle Yoga, Vinyasa Yoga, Zhong Xin Dao I Liq Chuan and I am a Registered Personal Trainer with AUSactive (formerly Fitness Australia). I have worked in the fitness industry and have taught Qi Gong and worked in yoga studios.
I currently study with two Yoga teachers, Kristine Weber at Subtle Yoga and Denise Roulout at Denise Yoga Co.
In 2016 I was awarded a gold medal for Seniors Push Hands at the 2016 Australian Kung Fu Championships and have several awards for Tai Chi forms as well.
I have always had an interest in mastering the basics and ensuring that training activities are safe, functional and future focused. My approach to training is that regardless of the modality we all share a similar anatomy and therefore we can share safe movement patterns and habits. My particular interest is the application off of the mat so to speak. We practice so that we can improve our own health but also contribute to the well being of our families and communities that we live in.
If you would like to get fitter and stronger as safely as possible with the view of maintaining that health over your life time, then we could talk about how you can reach your fitness goals.
If you would like to contact me you can email me at chris@circlework.training or you can message me on my FB site https://www.facebook.com/circlework.training/, please like and follow. I look forward to hearing from you.
Qualifications
Certificate IV Gym Instructor, strength and conditioning, (add certs here)
Level 2 Registered Exercise Professional
Personal Trainer and Fitness Professional
Student Level 6, Instructor Level 2
I am deeply grateful for the instruction and teaching I have received from my Sifu Shane O'Donnell and my Sigong Sam Chin.
I would like to acknowledge with respect my yoga teachers, Heather Agnew, Kristine Kaoverii Weber and Denise Roulout.
Various online yoga courses for personal and professional development; Subtle Yoga online, vinyasa, core, older adults and chair.
Tai Chi
Tai Chi for Balance, one-step, Yang style. Add cert here